Dollar Tree Farmhouse Decor
I fell in love with Farmhouse decor when we bought our last house and I love finding Farmhouse decor at the Dollar Tree and Farmhouse decor ideas that you can make using Dollar Store materials. Farmhouse style decor is incredibly popular. It is characterized by its shabby chic, rustic furnishings and home decor. Check out these 12 farmhouse decor items that you can buy from the Dollar Tree. Here are 12 Best Farmhouse Decor Items To Buy at Dollar Tree!
In case you are in a hurry…
These DIY home decor Dollar Tree ideas are perfect for any room decor and DIY Dollar Tree home decor. My favorite way to update my home every season and holiday (or when I get board, lol) is by using Dollar Tree decor. You can always find ideas for Dollar Tree rustic decor that is perfect to use in apartments, the bedroom, front porch, kitchen, and Dollar Tree living room decor! If you are wondering the best Farmhouse Decor items to get from the Dollar Tree  then this post is for you!
Best Farmhouse Decor Items To Buy at Dollar Tree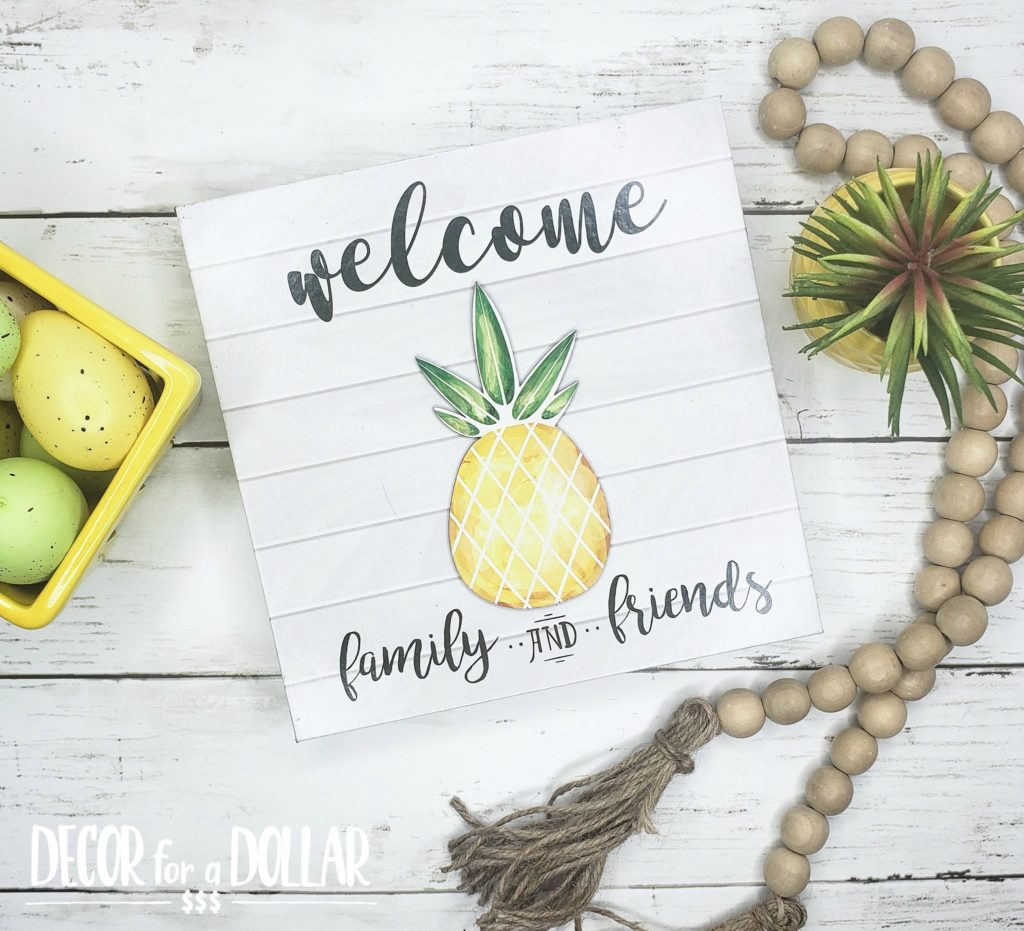 Terracotta Pots/Galvanized Pots
If you like the farmhouse look, the terracotta pots and galvanized pots at the Dollar Tree are farmhouse style all the way! You can paint both pots to create a different look or use them as-is. Add some Dollar Tree faux flowers or succulents for an easy home decor item!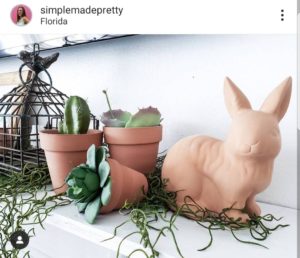 –>>Get Dollar Tree Terracotta pots here
Faux Plants/Flowers/Moss
The quality of the Dollar Tree's fake flowers and plants have come a a long way! Seriously, check out these peonies that I found at my local Dollar Tree!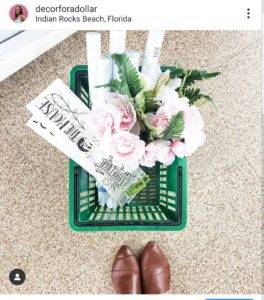 You can also use moss (green or brown) in flower pots and to make a topiary or wreaths!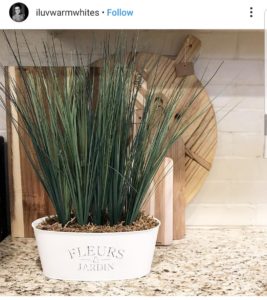 I love how Eharperx used Dollar Tree flowers to make this light garland!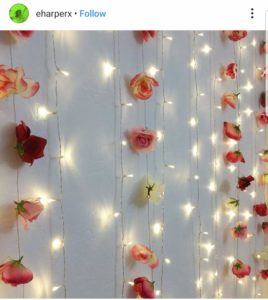 –>>Get Dollar Tree flowers here
Glass Vases/Milk Bottles/Candle Holders
Did you know the Dollar Tree has cute vintage milk bottles? Paint milk bottles white for a farmhouse look like Dollar Tree obsessed did.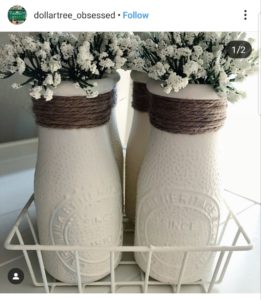 –>>Get Dollar Tree Vintage Milk Bottles here
The glass cylinder vases at the Dollar Tree are one of their most popular item (I bet you've seen them in Wedding decor!) See how Laurie R Creations used the Dollar Tree cylinder vases to make these cute farmhouse style planters.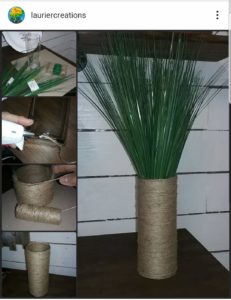 –>>Get Dollar Tree cylinder vases here
The candle holders from the Dollar Tree can be used to make tiered trays and farmhouse style candle holders. See how Laurie R Creations made some farmhouse style candle holders!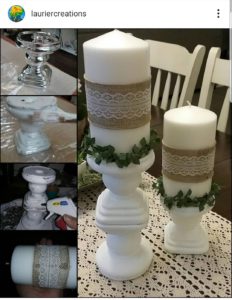 Twine/Rope/Burlap Ribbon/Ribbon
Grab some twine, rope, and burlap ribbon from the Dollar Tree the next time you are there! Tie twine or rope around bottles and flowers pots, use burlap ribbon to wrap around a Styrofoam wreath, and so many more DIY ideas to use these essential Dollar Tree decor items! See how Thrifty Living used twine around some Dollar Tree painted terracotta pots below!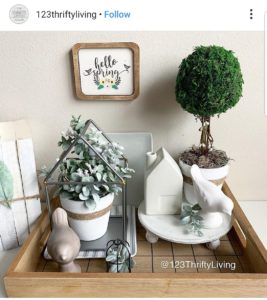 –>>Get Dollar Tree twine here
Peel & Stick Wallpaper
The Dollar Tree has contact paper and shelf liner that can be used as peel and stick wallpaper! Just check out this post showing you how!
Check out the floral shelf-liner used as wallpaper here.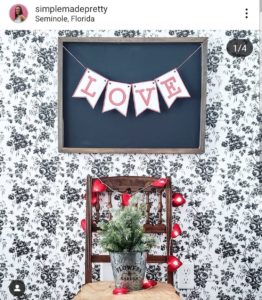 See how to use the wood plank shelf liner as wallpaper here.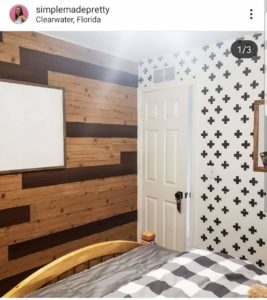 –>>Get Dollar Tree Shelf Liner here
Peel and Stick Wall Decals
My favorite item at the Dollar Tree are the Peel & Stick decals because you can stick them to any surface!
I've used the Dollar Tree decals to make several farmhouse signs. These Farmhouse signs found in Hobby Lobby clearance that I painted over the design and added Dollar Tree decals.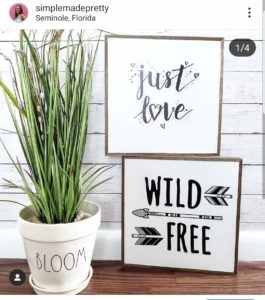 This sign was $2 in the clearance section at TJMaxx and I painted over and added a Dollar Tree decal. Watch the YouTube video here to make this sign!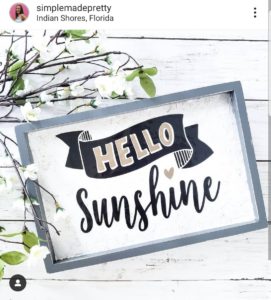 This super popular Unicorn sign by applying a Unicorn Dollar Tree decal!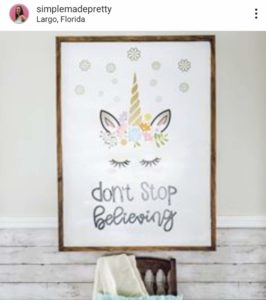 –>>Get Dollar Tree Wall Decals here
Farmhouse Signs
OMG, the farmhouse signs at the Dollar Tree just get better and better! I've been stocking up on these signs because they are so good!
I especially love this pineapple sign!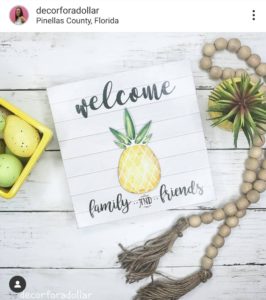 –>>Get Dollar Tree Farmhouse signs here
Picture Frames
The DIY ideas using picture frames from the Dollar Tree are endless! Check out a few of the ideas I found below!
Make a clear sign like Simple Made Pretty did using a Dollar Tree picture frame.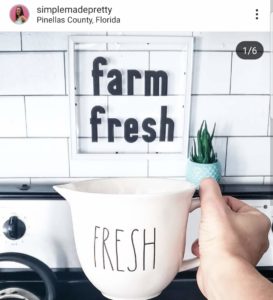 Create a fun lantern using Dollar Tree frames like All Things Dollar Tree.
Make a "window" frame using Dollar Tree picture frames like Laurie R Creations.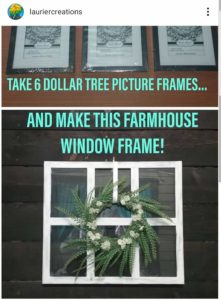 –>>Get Dollar Tree picture frames here
Baskets/Bins
The Dollar Tree has plastic baskets and bins in all different styles and sizes. The Dollar Tree baskets are easy to spray paint to change the color or just use them as-is in your home decor.
See how Simple Made Pretty used plastic Dollar Tree baskets, wrapped with burlap to decorate her home!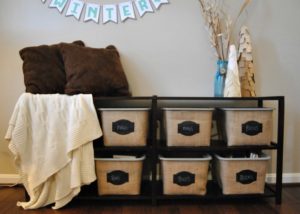 –>>Get Dollar Tree baskets here
Styrofoam/Grapevine Wreaths
The plain wreaths at the Dollar Tree are a fun #5minutecraft using other materials found at the Dollar Tree too! Check out how Simple Made Pretty used a Dollar Tree Styrofoam wreath wrapped in burlap ribbon to make a fun wreath that can be used all year long. Just add flowers or a farmhouse sign to update every season.
Or this Grapevine wreath with some greenery and ribbon.
–>>Get Dollar Tree wreaths here
Welcome Door Mats
The Dollar Tree carries some cute welcome mats with fun sayings. I purchased one that says "Hello/Goodbye" and love it as a layering doormat! Check out how White Washed and Weathered used this Dollar Tree Door mat.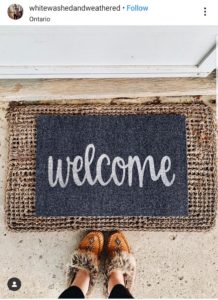 –>>Get Dollar Tree Doormats here
Holiday Decor
The Seasonal decor you find at the Dollar Tree during holidays is hit or miss so if you see something you like, you better grab it before it's gone! I found some cute farmhouse style Easter eggs at the Dollar Tree during Easter and they were identical to Hobby Lobby farmhouse Easter eggs (that were $6.99). Check out the comparison in this post!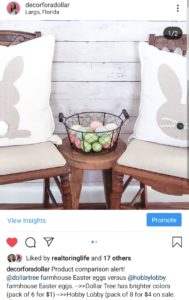 Wrap Up about Farmhouse Decor From The Dollar Tree
I hope you enjoyed reading about these Farmhouse Dollar Tree home decor items and Dollar Tree decor ideas on a budget. Create farmhouse style by using Dollar Tree flowers in your decor and these Dollar Tree decor hacks. Use your imagination when trying some of these Dollar Tree decor tips and DIY craft ideas!
Don't forget…
—>>Find a Dollar Tree near you!
Pin this post to your Favorite Pinterest Board for later…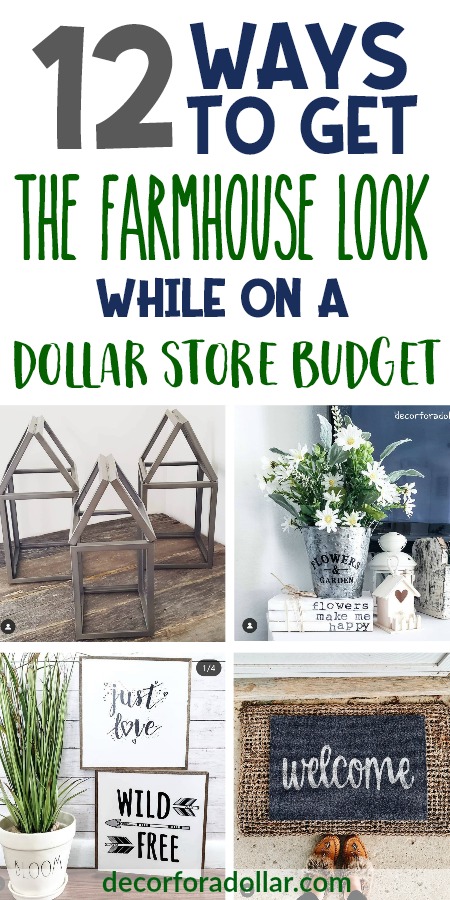 Related articles you might also like…
Disclaimer: This post may contain affiliate links or a sponsored post. All opinions are always 100% mine and I don't partner with any product or company that I don't use and love. Please see our Full Disclosure for more information.
Dollar Tree Farmhouse Decor